Representatives from 14 Eastern European countries met to get to know each other, discuss and form a network
by Tanino Minuta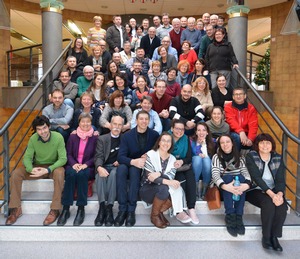 On 4 February 2017, when he met a large international group gathered in the Paul VI Audience Hall, Pope Francis, in order to remember the beginnings and developments of the Economy of Communion, highlighted its history and aims, pointing out how Economy and Communion are two words that, even if common thinking separates them, in Chiara Lubich's intuition are united for a precise purpose: to erase the divide between the rich and the poor by educating companies to keep the poor in mind when allocating profits. This way the entrepreneur has the chance to become an agent of communion.
"In bringing the good seed of communion into the economy, you have begun a profound change in the way you see and experience the enterprise. Not only can the enterprise not destroy communion between people, but it can build it, it can promote it. Show through your life that economy and communion become more beautiful when they are side by side. Certainly, the economy can become more beautiful, but also communion, because the spiritual communion of the hearts is even more complete when it becomes
a communion of goods, talents and profits"
Entrepreneurs and economists from Russia, Lithuania, Poland, Czech Republic, Slovenia, Hungary, Romania, Macedonia, Ukraine, Bosnia Herzegovina, Bulgaria, Croatia, Slovakia and Serbia met in Bratislava on 9-10 December 2017 for a discussion and validation.
The participants considered three areas to be elaborated: poverty, enterprise and culture and then with their contributions communicated to the whole assembly, they assigned new lines of cooperation between the countries they represented. A common note was the recognition of the significant historical experience of communism that had drawn its strategies of development and cultural renewal from the economy, which constitutes, in the formulation of a new economic theory, an obstacle or a brake.
The groups decided to re-focus on research on the type of economy that could be able to cancel the poverty and establish solidarity necessary to realize Chiara Lubich's prophecy, as Pope Francis had reiterated: "As long as the economy produces even one victim and there will be even one discarded person, communion is not yet realized, the feast of universal fraternity is not complete".
In order to achieve these aims in the ex-communist area of Eastern Europe, the need to create networks of communion emerged. A platform for continuous discussion and specialized consultation is necessary which could be established by exploiting the virtual channels that not only favour collaboration between the countries present but are capable of tying them to the international achievements already underway. Such a platform could create a communion of talents and projects, just like the EoC-IIN HUBs.
Luigino Bruni, who is a competent and enthusiastic promoter of Chiara Lubich's prophecy, with his twenty years
of experience, was able to testify that in a globalised world where things change very quickly, in order for an idea to be effective it is crucial to know how to stay in the rhythm of time. It can be done by entrusting young people who represent today (and not the future) the reins of companies and every initiative, supporting them and valuing the talents that are manifested or still hidden, through the passing on of experiences, helping to interpret life "through the eyes of those who are the last". In his faith one could read the joy of having seen talents flourish even where they did not seem to exist and, in his collaborators on various continents, with some of whom there was a direct connection during this meeting, one could see the hopes of an economy at the service of man anticipated and realized.
An echo from Antun Matošević, Macedonia: "I feel very grateful for the opportunity to participate in this meeting. Having studied at the Sophia University specializing in economics, I feel motivated and encouraged to dedicate myself concretely in my area."
There was an intense and much participated dialogue in the evening (which was an event open to the public) in which Professor Bruni explained how the roots for understanding a new economy should be sought in the Bible because only through Scripture can one unmask the idolatry that consumerism has become today. In this process of unmasking this "new religion", the prophets who lend their voice to God to speak and prevent religion from becoming a market are and have always been valuable. Attention to the poor is a sign attesting to the truthfulness of a prophecy. It was not difficult to make a connection between the professor's words and Pope Francis' actions.
One of the reactions to this economics-focused event was: "I have never thought that there was a link between economics and the Holy Scriptures. And yet now I see clearly that human action, since it is always an action that touches the economy, can become religious action".
See photo gallery by Dominik Sepp - See photo gallery by Janez SnojJanez Snoj
See video made of the evening talk with Luigino Bruni entitled: "Leaders of Today from the Perspective of the Ancient Prophets" - (Bratislava, 9 December 2017)
See video made of the conference with Luigino Bruni on the Economy of Communion for the HANUS Fest - (Bratislava, 9 December 2017)