"Social Innovation Summit" in Stuttgart: being aware of current social challenges and creating networks
by Andrea Fleming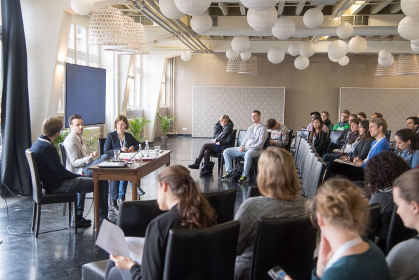 Joint vision. Collective action. Better Future: this was the subtitle of the first "Social Innovation Summit" (SIS) which was held in Stuttgart, Germany in mid-March. It opened up a wide horizon for the great variety of actors who reached the Swabian metropolis from all over Europe and also from other continents.
From environmental activists and non-profit social-political organisations to entrepreneurs who take their co-responsibility seriously for the good of society, around 400 young volunteers and stakeholders spent two days together participating in short programme speeches, round tables and interactive workshops.
There was also a group of people from the Starkmacher project (a German non-profit association for the training and support of young people in Europe) from various parts of Europe and representatives of the Economy of Communion who created new contacts and gave their contribution in the discussions. 'In terms of content, I have not heard many new things so far,' was the balance of a Bosnian student from the Starkmacher group after the first half day 'but the combination of such different people who meet here is very interesting: it's nice to see such a great interest in models of work and alternative businesses!'
"Networking" seems to be the keyword here and this is precisely why Nikolas Migut came from Hamburg. As a director of television documentaries, he has made several reports on homelessness and founded an association that wants to facilitate meetings between people with and without a home. 'Now I want to find out how I can transform this initiative into a social enterprise that also creates job opportunities and improves the quality of life of the people involved.' Migut hopes to find allies in the SIS and to learn from the experiences of others.
The promoters of the summit aim to raise awareness of current social challenges, to create networks of stakeholders from different backgrounds
and to highlight everything that the entrepreneurial activities already do to some extent to serve society in any way. Manuel Kreitmeir is in the team that promoted this first German "summit" of social entrepreneurs. He is satisfied with the returns of the initiative: 'It took a while for the general interest to be reflected in the bookings - and especially for the keynote speakers it was a bit difficult in the beginning. But at some point the initiative took off and suddenly even the big players of the sector started showing interest: CSR managers from global industry groups are now also present at our round tables. But after all we are rather interested in a wide network. No one has the solution for everything, but everyone can make an important contribution and our societies can benefit from it.'
Together for a Better Future - this is also the slogan connecting the summit with the international conference "Prophetic Economies" , to which Christian communities and initiatives are invited this November in Rome. It is hoped that the network will grow further and that the positive influence on economic and social systems in Europe will be felt and seen. Perhaps someone from Stuttgart will also be there in Rome.
Photo: Martin Stollberg / Elisabeth Mauruschat